The Best Software Platforms For Selling Online Courses in 2023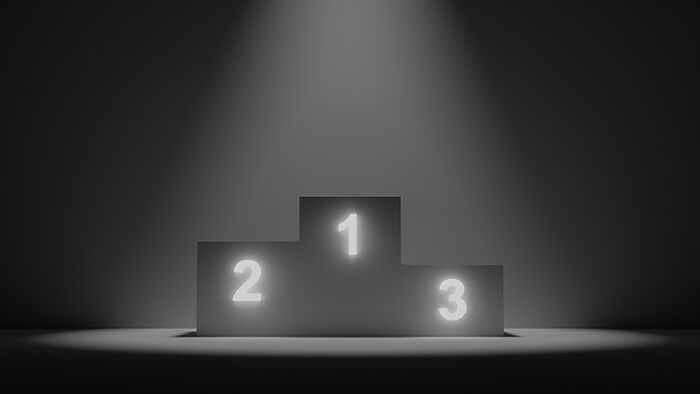 Hi there. If you're looking for the best software platforms for selling online courses, you're in the right place.
In this article, I'll take you through a brief overview of my top three favorite, dedicated web apps that allow you to start making money from selling online courses. If you want to dive into a deeper, long-form review on these online course software apps, I'll link out to my longer reviews on them.
Okay, before we get started, I need to put a few things on the table:
1. The articles I write here on Clarity Lab are reader supported, which means that they contain referral partner links in them…which means that if you sign up for software I recommend after clicking on one of my links to an app, there's a chance I'll make a small commission.
2. There are two different categories of software platforms for selling online courses.
The first is the "all-in-one" category, which is the kind of software for selling courses that gives you everything you need in one platform, rather than having 15 different plugins and web-based apps.
The second category is one for the dedicated online course software app that mostly, or wholly, focuses just on the set of features needed for you to deliver online courses to your customers.
I've got software in both categories listed on my "best software for selling online courses" list below.
3. I'm not including WordPress plugins for selling online courses in my top 3 list.
Why? Because I'm not a big fan of WordPress based sites for running a business that sells online courses.
There's a reason for that. Over the past 16 years of helping clients build businesses that monetize their knowledge, I've helped over 550 entrepreneurs like yourself. People who had an idea for an online course they could teach that would help other people in their lives in some way.
Of those 550+ entrepreneurs I've helped, there were a total of two people who actually wanted a super flexible software platform for selling online courses that allowed them to dig into the code level of things so they could customize it exactly like they wanted.
And the rest of the clients? Absolutely did not want to mess with software hassles, tangles, and headaches that are inherent in having a WordPress based tech platform for your business.
They wanted to do what they wanted to do, which is teach and help people. They didn't want to mess with having to get WordPress, a theme, and 18 plugins to all work together.
That's why my top three recommendations for software platforms to sell online courses don't include WordPress plugins.
The opposite reality from all that hassle is an all-in-one app that removes those kind of tech headaches, which brings us to my top choice for online course software.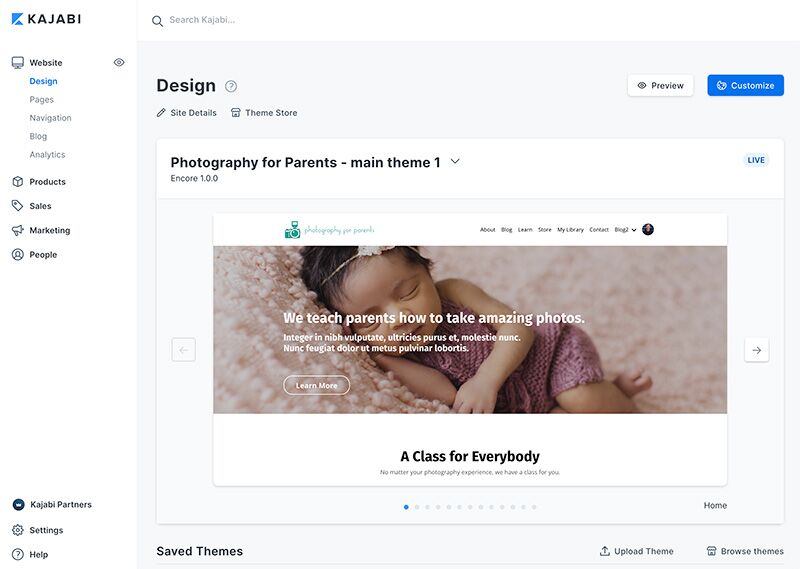 Kajabi is my favorite software platform for selling online courses because it does the opposite thing that a WordPress + 18 plugins + 4 stand alone apps tech stack does: it makes your life around technology WAY less stressful.
In a nutshell, Kajabi gives you the tools you need to build a business that can monetize your knowledge.
Kajabi allows you to:
Design and build a beautiful marketing site, which is where you'd have all your regular website pages, plus a blog and a podcast (if you want those things.)
Not have to worry about getting a webhost to host your site. That comes with the platform.
Create opt in forms to give people free things on your site to build your email list.
House all of your multimedia course content in an easy to use space for your students.
Allows you to offer coaching or consulting services with a built in self-scheduling workflow for your clients to use.
Give your students a place to connect, get support, and give support in a private Facebook group like area that's not Facebook.
Use artificial intelligence right inside the app to help you create new course outlines, course content, blog posts, and emails.
Have all of your payment processing tools in one place so you can accept payments right on your site.
See financial reporting data on your sales and recurring membership plans.
Have the basics of a customer relationship app built right into the platform.
Keep all of your email marketing and email communication tools in the same app where everything else is.
Make income from having your own referral partner or affiliate program where you pay people a commission for sending you new customers.
Yes, that's a lot to have all in one app. But if you're going to build a business that monetizes your knowledge, those are the kinds of things you'll need to pull it off. And if you don't get all that taken care of in one app, you'll need to integrate other dedicated apps that do those various things to make your business able to run and generate revenue.
Kajabi isn't perfect, but I can't say that about any software platform I've ever used over the last 16 years for building a business around monetizing your knowledge.
I will say, however, that of all the platforms out there, Kajabi gives you all the major functionality the best of any platform.
It's easy to use, and has a powerful webpage editor that allows you to make gorgeous website pages, blog posts, and landing pages. Here's a screenshot of part of the homepage of a demo site I made with Kajabi: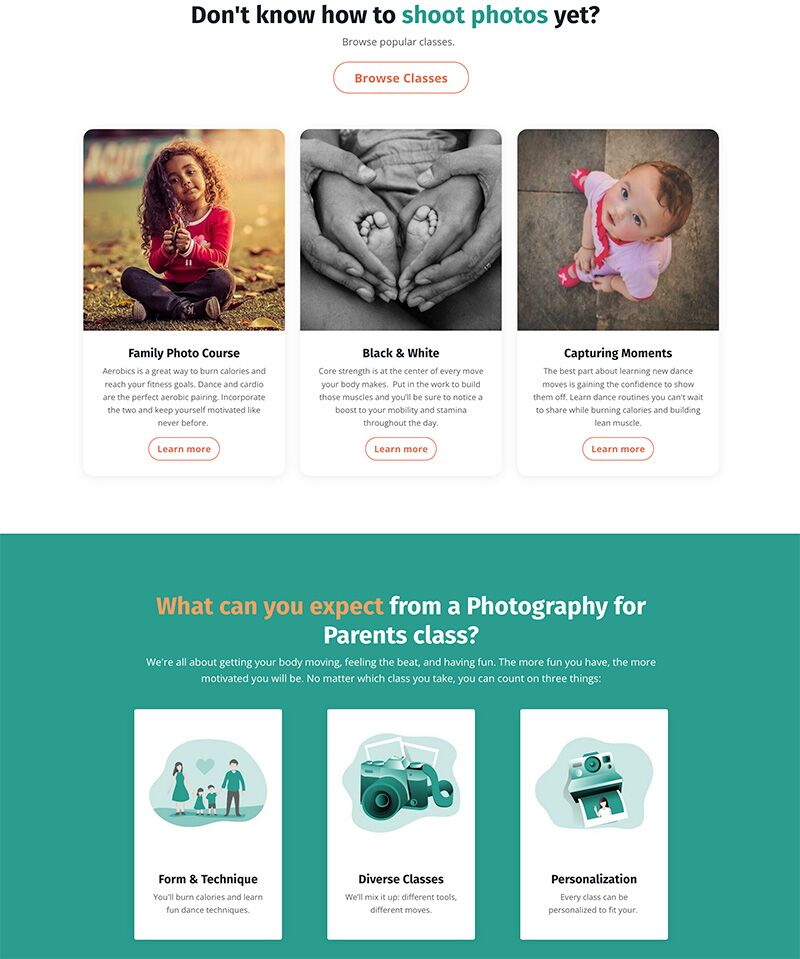 For my full, detailed review of Kajabi, which takes you through each part of the app and shows you what it's like to use it, head on over here.
I use Kajabi for my business and my wife's business and have been helping clients use it in their business for the last 10 years.
All of that experience is distilled in the review, which is good for you because it will massively cut down on the time required to test out Kajabi yourself.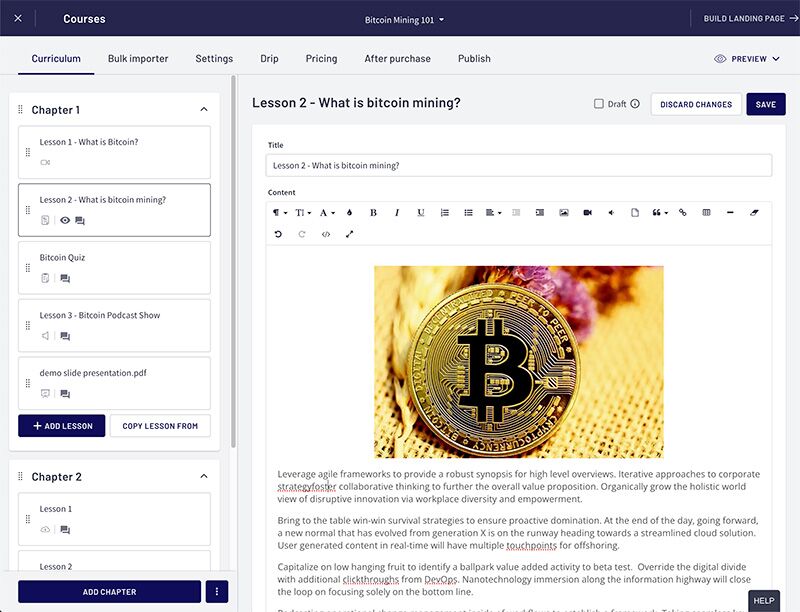 Thinkific is in our number two position for software platforms that allow you to sell online courses, but I will say that it's very similar to the app in the third spot on our top three list.
Thinkific is in that second category of apps for monetizing your knowledge that I mentioned above, which means that for the most part, it's features are focused on giving you the tools you need to handle the online course selling and delivery part of your tech stack.
Because it just focuses on this part of the features you need for a business like this, the Thinkific team has created an app that does really well in this one area.
Like Kajabi, it's very easy to use and will give your students an organized, easy to navigate area to go through your course content. And if you're going to integrate some live teaching via video, they've got things set up so you can run those live classes on Zoom and have it show up right inside your member area.
There's a number of other things that I love about Thinkific, such as having the tools you need to give students certificates of completion after they finish your courses. Or the ability to upload presentation slides from Power Point, Keynote, or any other slide creation app, right into a lesson and have the slides appear in a slide player that your students can flip through.
You can also upload all of your various other types of multimedia lesson materials and have them hosted in your course with Thinkific. Things like videos, audio recordings, pdfs, and text for any given lesson page, which looks like this, from the perspective of one of your students, who is apparently inside a course about Bitcoin mining with me teaching while riding a bike. ¯\\_(ツ)_/¯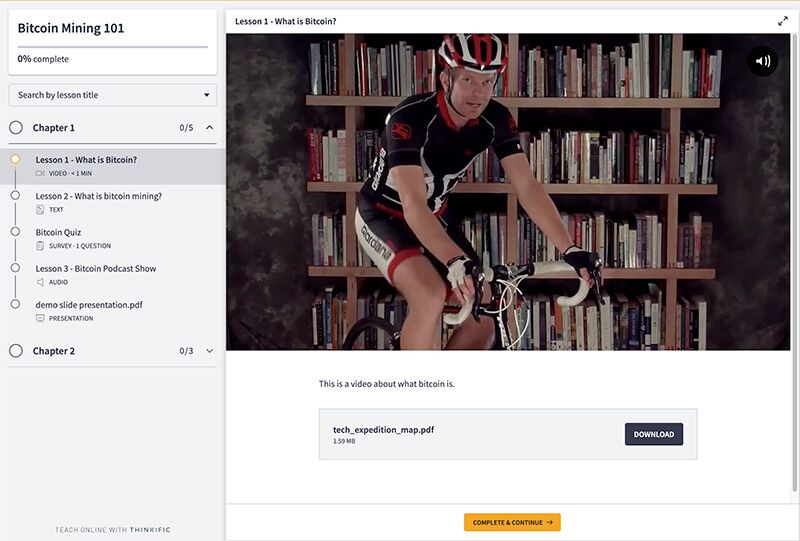 Surveys and quizzes are also super easy to add to your course content with Thinkific, and you can even create assignments for students, which includes an easy way for them to upload multimedia files for the assignments that you can easily review.
Also, Thinkific has a basic, private community space that's like a Facebook group area, but right within your Thinkific member's area.
Thinkific gives you the features you need to take payments for online courses, run your own affiliate program, and build out some simple website pages meant to be for your online school.
I will point out, however, that although the Thinkific marketing website makes it sound like you can build a full website for your business with their platform, that doesn't mean what most people think it means.
Their website building tools are limited, even though they're easy to use. You can create some basic pages of a website for your school, but you won't be able to create a blog for content marketing, or a podcast page to house your podcast episodes and syndicate those episodes out to podcast platforms (which Kajabi can do), and there's no way to do list building by offering free things on a Thinkific site.
In other words, this part of Thinkific doesn't come close to what Kajabi gives you in terms of the tool set needed to build a beautiful, full featured marketing website.
What this means is that if you're going to use Thinkific, you should think of it as a stand alone app that just focuses on the online course features and affiliate program features. Which means that you'll need other software for your marketing website, blog/podcast, another app for your email marketing and student communication needs (like Convert Kit), and other apps to give you features needed to run your own coaching or consulting sessions.
If that works for the kind of tech stack you want to build for your business, which might be the case if you already have a WordPress or Sqaurespace site that you like, Thinkific can slot right in and give you exactly what you need.
If you want to take a deeper dive into what Thinkific can do for you, head on over here.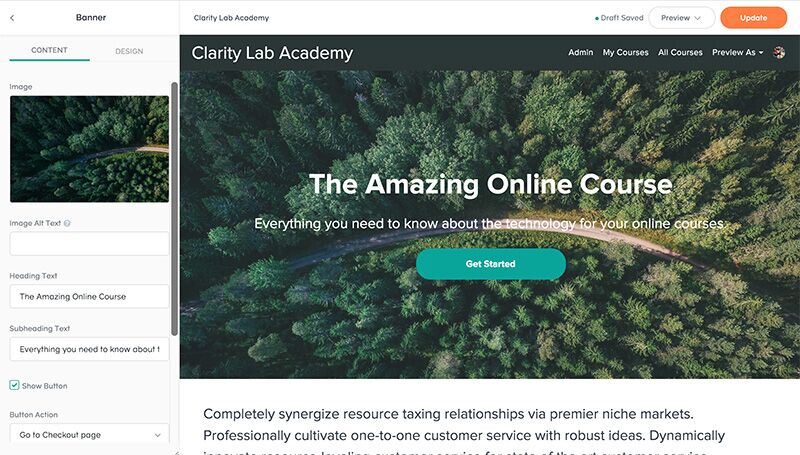 Teachable is very similar to Thinkific in its feature set and is also in the second category of software for selling online courses mentioned above. Like Thinkific, its features are mostly focused on giving you the tools you need to deliver online courses.
In my mind, Teachable and Thinkific are competitors with each other, but because I feel they're in a slightly different category of software, they aren't direct competitors to Kajabi, simply because Kajabi is in the "all-in-one" category and Teachable and Thinkific are in the "online course focused" category.
Teachable's feature list is almost identical to Thinkific. There's just a small handful of things (that are not mission critical) that I think Thinkific does slightly better than Teachable, which is why I've put Thinkific above Teachable in this top three list.
Like Thinkific, Teachable is quite easy to use and because it's mostly focused on the online course side of things, your students will have an easy time going through your online course content in a Teachable course area.
And like Thinkific, it's super easy to upload all of your multimedia course content in Teachable, including videos, audio files, pdfs, and written lessons.
You can process payments for online courses with Stripe or Paypal right through the Teachable checkout pages, just as you can do with Thinkific. And there's also the tools you'll need to run your own affiliate program inside of Teachable.
Teachable's website builder is limited in a very similar way as Thinkific's, in that you can build some basic pages for your online school, but their page builder isn't as flexible as Kajabi's and you won't end up with all the features you need to build out a full-featured marketing website.
Because Teachable is mostly focused just on the online course delivery features, you should think of it as the part of your tech stack that just handles those things.
It does have the ability for you to send out emails to your students as broadcast emails, which is something that Thinkific doesn't have, but there are no email marketing features built into Teachable yet, which means that you'll need to integrate another app for that, like Convert Kit (which is my top pick for a stand alone email marketing app.)
And just as with Thinkific, you'll need another platform to build out your marketing site, such Squarespace or WordPress. And if you're going to sell coaching or consulting sessions, you'll need other apps to make all of that possible.
To get a full tour of Teachable and my in-depth assessment of how it can help you with your business, head over here to read my Teachable review here.
Alrightee then. I hope all of this helps you with the process you're in right now around deciding what software to use for the journey that you're on.
If you'd like some help making the decision, I'm happy to hop on a Zoom call and help you with that, or with the 9 other aspects of building a business like this that you'll face after you get your tech platform set up.
You can learn more about my consulting and sign up for a free discovery call to see if we're a good fit right over here.
Good luck with everything you're working on!
There's a lot to learn and a lot to implement to build a business like the one you're about to build, but the life you get to live after it's all up and running, where you're helping people and making good money doing it, is soooo worth the effort.
All the best to you,
~Forest