Ghost Review 2021 – Should You Use It For Your Newsletter?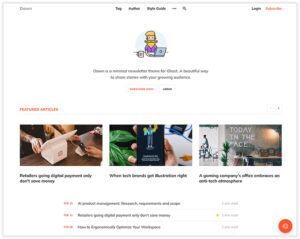 Welcome to our Ghost review, where we'll take a deep dive into this publishing platform that's giving creators a new place to publish their work in an easy-to-use, super clean interface.
What is Ghost?
Ghost is a publishing platform for newsletter writers, bloggers, and podcasters. It makes it insanely easy to set up a simple website with built-in email marketing features so you can publish a newsletter, blog, a digital magazine, or a podcast.
I started looking into Ghost because I was intrigued by how clear and focused it seemed to make all the work around publishing a newsletter. For the most part, that seems to be who Ghost is targeting the most right now: newsletter publishers who want to create both free and paid newsletter content.
After spending time with it over the past few months, I'm considering moving my newsletter to Ghost, or maybe even starting a personal blog as a place to hold writings on subjects that wouldn't fit on my business site.
Ghost isn't perfect, but then, no software app is. What Ghost does have, however, is that rare ability to make me want to do something with it, just because it is so good at what it does.
There are some limitations with Ghost (which I'll get to below), but using it feels fast and simple. I get the feeling of the software getting out of the way so I can focus more time on writing and no time messing around with plugins or with getting my posts looking the way I want. (I'm glaring at you, WordPress.)
I'll get into the other features of this app in the rest of this Ghost review, but sitting on top, my favorite feature of Ghost, hands down, is how insanely fast pages load. Pages load blazingly fast and it's very noticeable.
That's appealing to me because it not only makes for a great user experience for people on your site, but Google gives you a bit of an SEO boost when your site loads quickly, meaning, in under 2 seconds.
Pages on a Ghost site seem to load before I've even fully had a thought like "hey, I wonder what's on this other page?"
Alright, before I dive into this Ghost review, I want to let you know that Clarity Lab is reader supported, which means that there are referral links in many of our reviews, which means that we make small commissions when people sign up for a paid version of software we recommend.
That keeps us from having to bother you with ads and allows us to give away lots of helpful free content. That's a win-win right there.
Okay, let's get into the review…
The Dashboard
When you login to Ghost this lovely dashboard greets you, showing you a navigation bar and all the vital stats for your site. And look! I made a sale!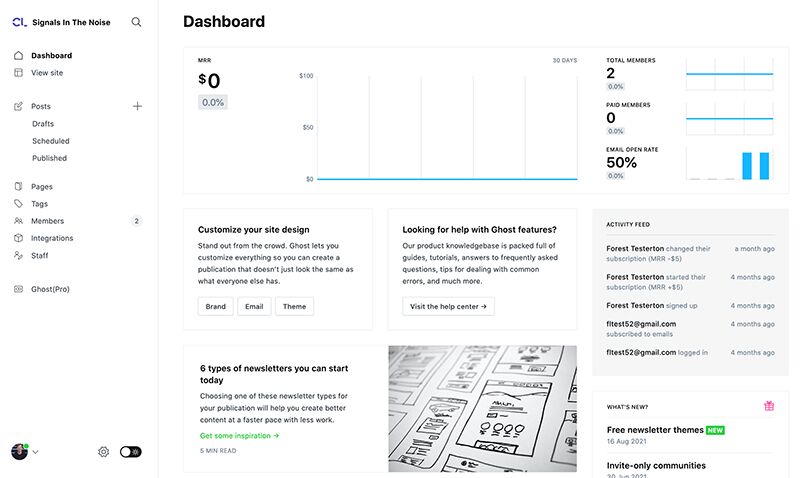 Formatting Posts and Publishing Email Newsletters
Here's another one of my favorite things about Ghost, which is so good it left me wondering why no one has thought of this before: when you format a web version of a newsletter issue on a Ghost site as a post, you have the option to send out that post of your newsletter as an email to the people on your email list with a couple clicks.
What does this mean? It means you don't have to format your newsletters TWICE!!
If you've published a newsletter for any length of time, you know the pain I'm talking about. You get it all perfectly formatted in your email marketing software, like Convert Kit (which is what I currently use) [ affiliate link ].
Then you have to go to your website and format the same newsletter AGAIN as a blog post so that there's a website version of the newsletter that people can share with their friends (and so site visitors can read your past issues if they're not getting your newsletter emails yet.)
Ghost turns things around and has you just format the website version of a newsletter and then with a couple clicks you can choose to send that post to paying or free subscribers.
This is so freaking amazing that the first time I saw it in action I wanted to hug the Ghost developers, which would be awkward because I don't know them.
Here's what it looks like when you go to publish a post with the toggles showing that allow you to also send it out via email automatically: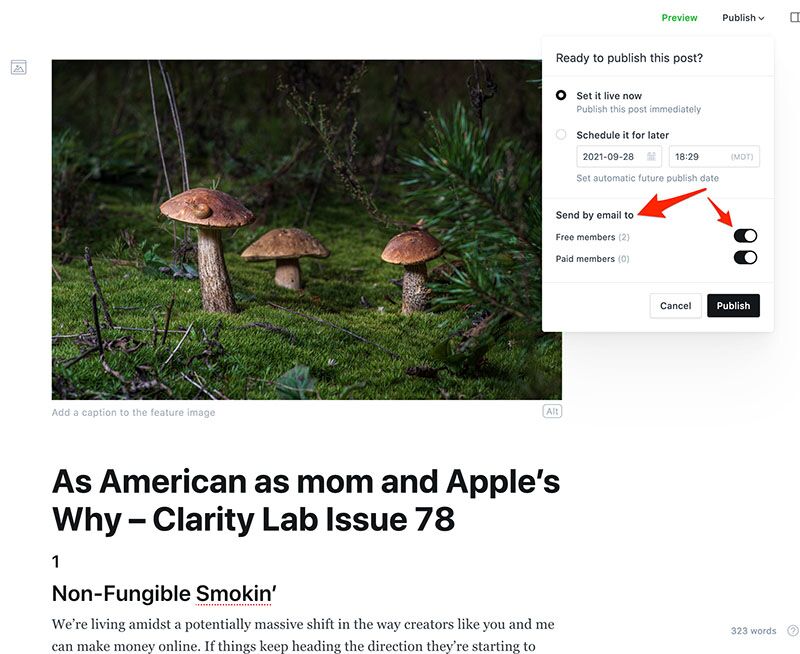 Those developers have done a stellar job of making sure that the email version of your post looks exactly like the web version. This removes so much time that you'd normally have to spend testing and fixing the email version of your post that would go out from your email marketing software.
You literally just format a post/newsletter once in Ghost and when you publish it, select to send it out to free subscribers, paid subscribers, or a specific segment of your list…and the email that automatically goes out to your list just looks amazing and professional without you having to fix a thing.
This awesome feature does have one downside though: there is no other way to send emails out to your list of subscribers/members than this method, at least at the moment.
So, for example, if you wanted to send an email out to your list that's just a promotional email about something you have for sale, you'd have to write the email as a blog post, send it to the people on your list, then unpublish the post after you send the email (if, that is, you don't want that email to appear on your site as a newsletter issue/blog post.)
This is a little different than what you're probably used to if you've been using an email marketing provider like Convert Kit or Mailchimp.
You can, however, easily integrate popular email marketing platforms like Convert Kit or Mailchimp with Ghost. It's easy to do.
If you integrate a dedicated email marketing app like Converit Kit with your Ghost site, you can just use Ghost for publishing your newsletters via the website and emails, and then if you need to do other things, like send out one-off email campaigns or set up autoresponder emails for something like a free email course, you can do that with Convert Kit.
This does mean, if you didn't catch that, that Ghost doesn't currently have the ability to set up a series of emails as an autoresponder series, which is common to use for things like a welcome sequence of emails for when someone subscribes to your newsletter, or when you'd want to offer something like a 7 day email course that people can sign up for free for on your site.
If you want to run an automated series of emails like that, triggered by different events on your website, you'd need to integrate a dedicated email marketing app like Convert Kit.
Formatting Posts
Here's the place inside of Ghost where you format posts, or issues of your newsletter, and yes, if you're wondering, the user interface is pretty minimal in the editing area. It's very clean and uncluttered: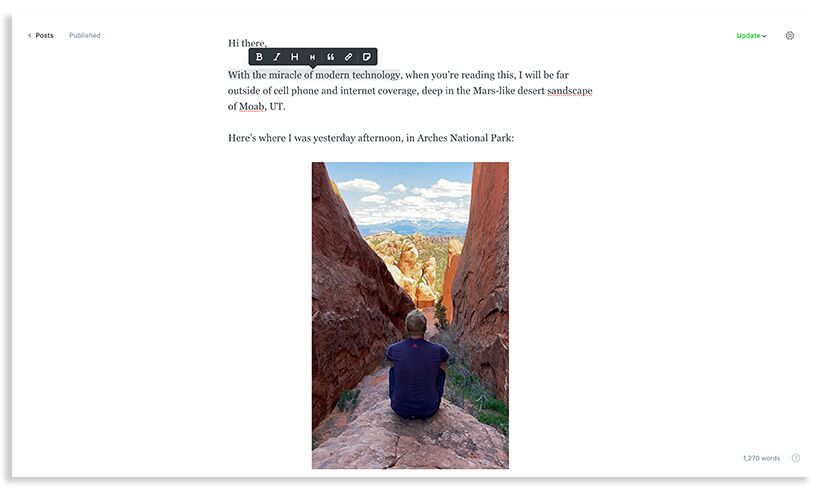 It's one of the cleanest, most minimal, unobtrusive post editors I've ever seen. To format text you can highlight some text, as you can see in the screenshot above, and a small toolbar appears to do a few of the more common formatting actions.
If you want to do more formatting than what's on that toolbar, you can use markdown code (not as scary as it sounds) right in the midst of your text.
It can take a little bit to memorize the markdown code, but once you get the hang of it, it makes writing and formatting extremely fast (faster than using a text formatting toolbar.) You just keep on writing and when you want to do something like emphasize a word with italics, all you do is put asterisks around the word you want to emphasize, like *this*. Piece of cake. If you want to bold a word, you do **this**.
Once you save the post **this** gets instantly formatted as this. See? Markdown code isn't scary code. It's friendly code that makes your life easier once you remember what symbols to type to make your text appear a certain way. Keyboard shortcuts for the win.
There's also a long list of things you can embed in a post, like images, image galleries, videos, and Twitter cards that show a person's Tweet in a nice little box right in your post.
To insert anything in your post you just hit return to start a new paragraph, click on the plus symbol that will appear, and choose what you want to embed into the post right where your cursor is: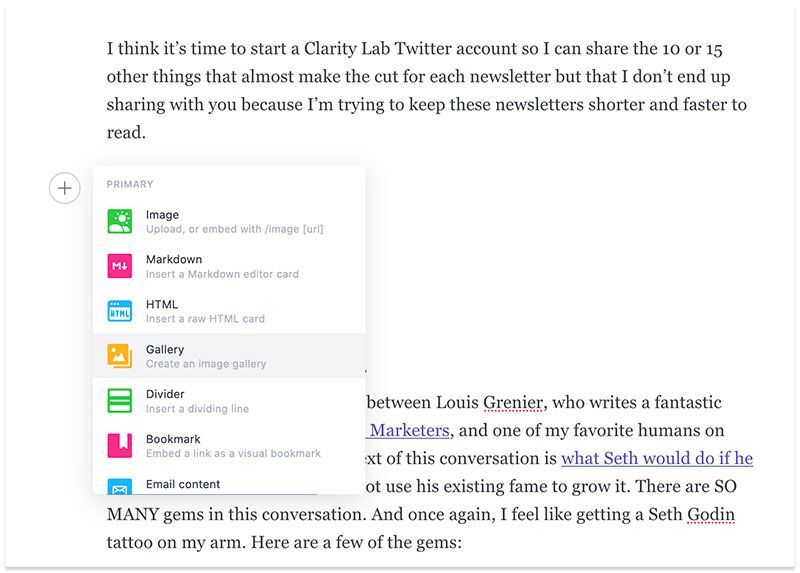 Inserting images into a post is insanely easy. They even have the entire Unsplash library of images, which is a large library of amazing free photos, accessible from right within the Ghost page editor.
In one click you're browsing the Unsplash library, and in another click you can insert any image from Unsplash right into your post, without needing to first download the image, optimize it with photo editing software (which reduces the file size of the photo), save it, then upload it.
I'm not sure how they're pulling this off, but it's amazing. Not having to download an image, resize it, optimize it, save it, then upload it into the post you're creating is a huge time saver. I suspect that they have some kind of auto image optimization happening behind the scenes so that the Unsplash photos that you put on a page via this method don't end up being a huge file size, which can slow down the page load time dramatically.
Full width images look like this: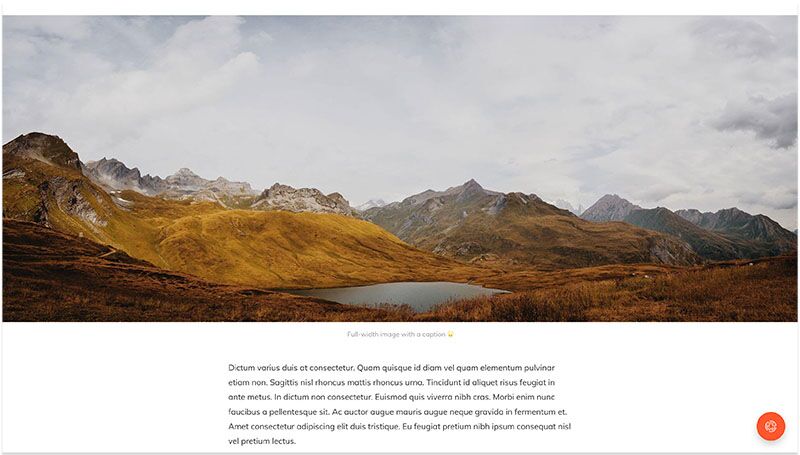 A photo gallery looks like this with the images nicely auto-arranged for you. (Why doesn't my office have an auto-arrange feature like this?):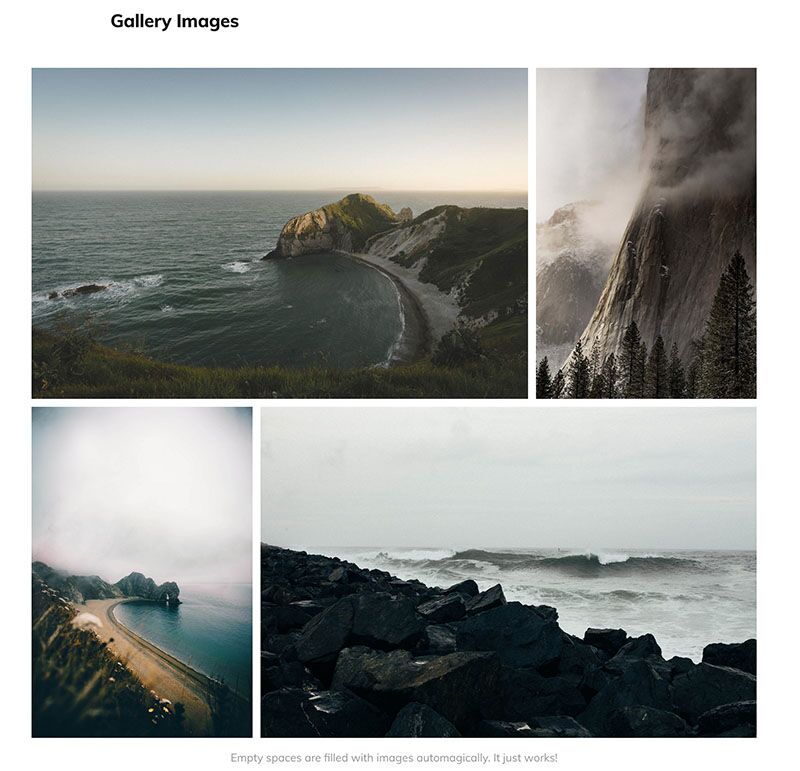 If you want to drop a Tweet from someone in your post, here's what that looks like (this is a live Tweet card that shows up-to-date likes, retweets, and comment counts for the Tweet you embed):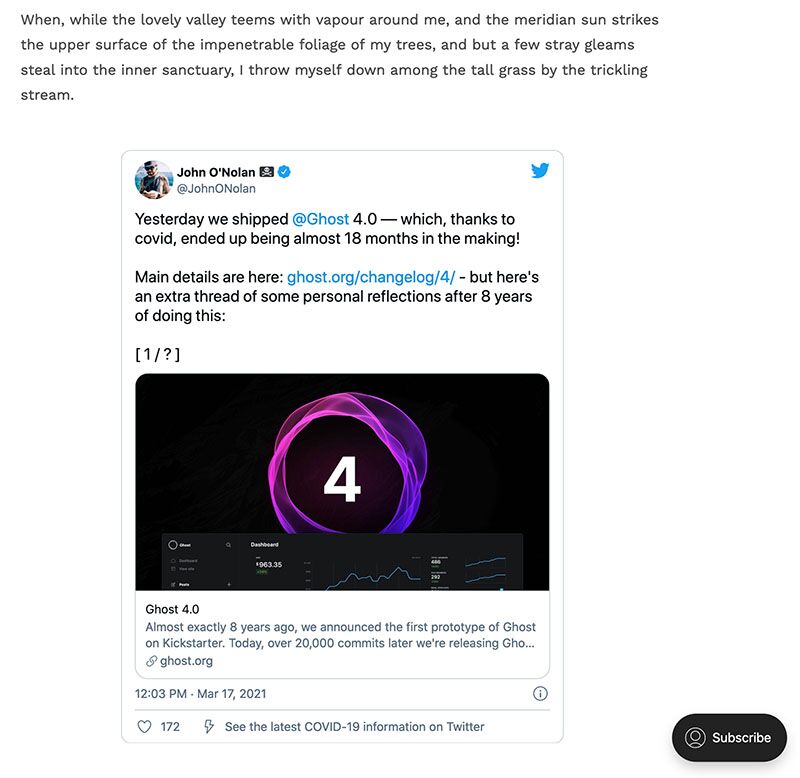 You can even create nice looking bookmark cards for links to websites if you like. The rectangle box below the text in the screenshot below is a link to a website (in this example, it's a link to the Arches National Park website):

Ghost Themes
A Ghost account comes with 24 beautiful, free themes you can use to style your site out of the box. Here's a snapshot of some of these free Ghost themes. I can't fit all 24 of them in one screenshot, so I highly recommend you head to the A Ghost account comes with 24 beautiful, free themes you can use to style your site out of the box. Here's a snapshot of some of these free Ghost themes. I can't fit all 24 of them in one screenshot, so I highly recommend you head to the Ghost site and jump into their theme store to try them out. And seriously, pay attention to how fast the pages load once you visit any given demo of a theme.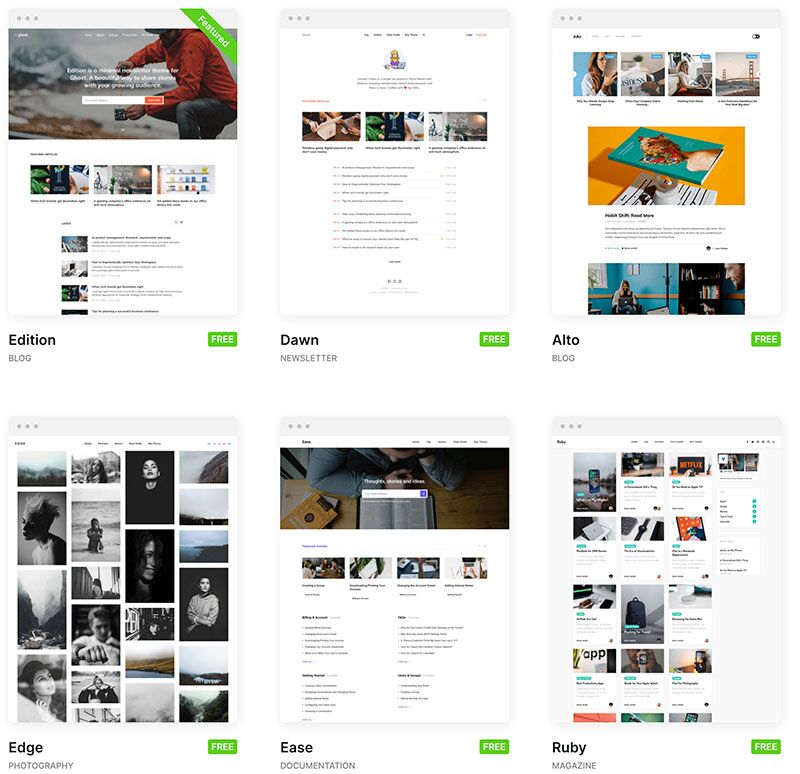 There's also currently about 72 paid premium themes (with more being added regularly) available if you don't find a design you like in the free theme selection. Here's a few of those: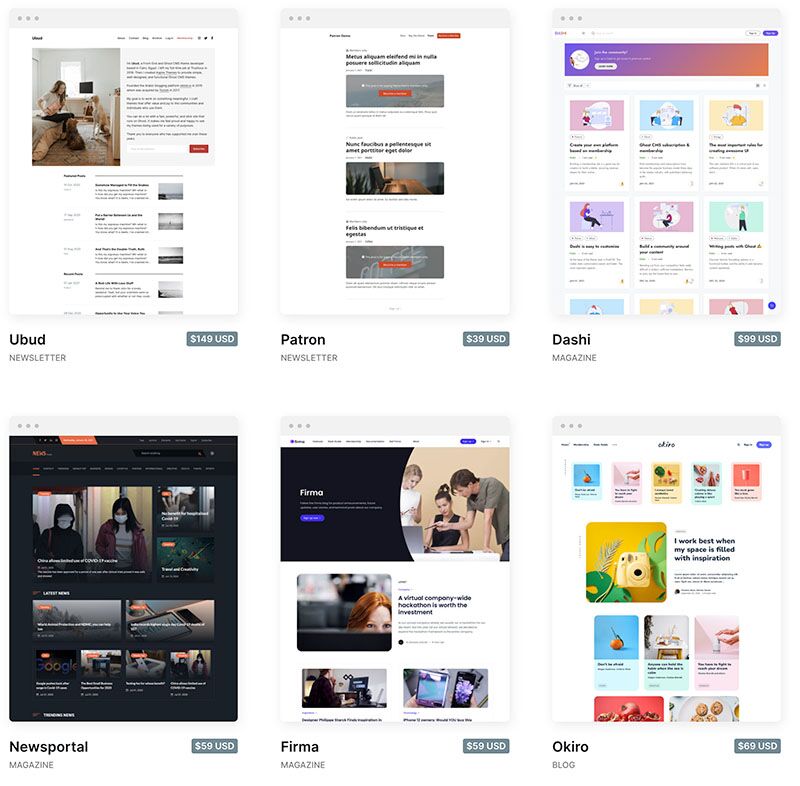 Growing Your Audience And Making Money
Every Ghost site comes with a couple different ways to get new subscribers, whether they're free or paid subscribers.
Some themes give you an option to put some text and a sign up form to grow your subscriber list right on the homepage, like this: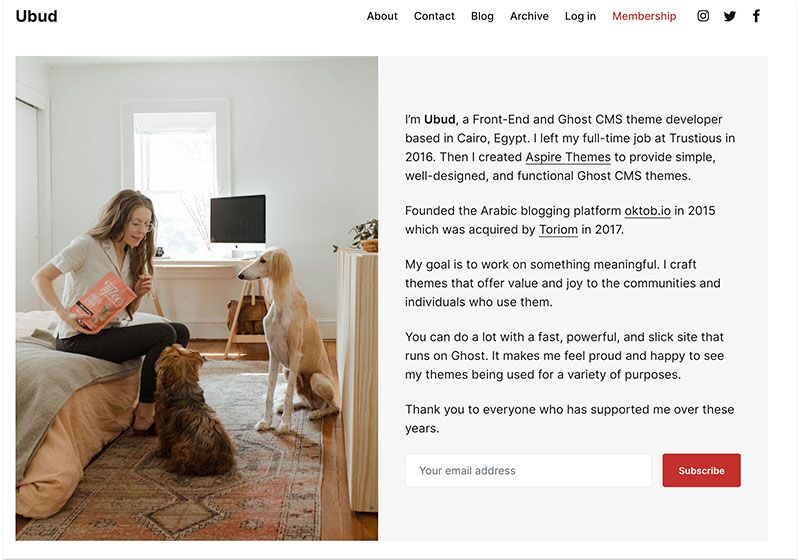 Other themes give you an opt in form to get new subscribers in the footer, and sometimes in multiple ways. Below, this theme has a central opt in form plus the subscribe button that you can have appear on any Ghost site in the lower right corner: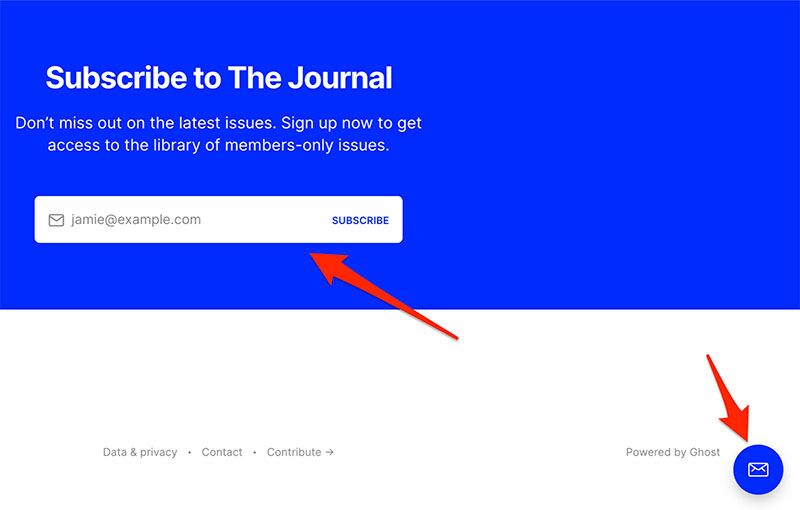 When you click on that little round subscribe button, this window pops up with free and paid options (if you have paid options) for subscribing to your site or newsletter: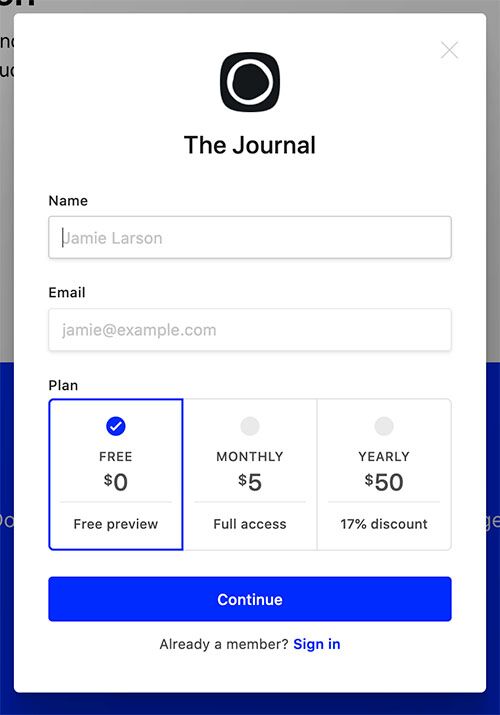 If you're offering paid subscriptions, when someone chooses one of the paid options, they go to the next step where they enter their card information. Then their payment is processed with Stripe (which is easy to integrate with Ghost).
You can also use a number of other payment gateways if you're willing to integrate them via a Zapier zap connection. (Zapier is an app that allows you to connect two apps together to trigger automated processes between the apps.)
The whole workflow for subscribers is easy, seamless, and fast.
Ghost has a great feature to get more paid subscribers built right in, as well. You can publish posts where just the first few paragraphs of the post are visible to non-paying subscribers, and then a message appears to choose a paid subscription to see the rest of the post. (Oh Ghost…you're such a tease.)
Here's what the "subscribers only tease" looks like in a post, just below some free preview content (and by the way, you can set exactly where you want the free preview to end):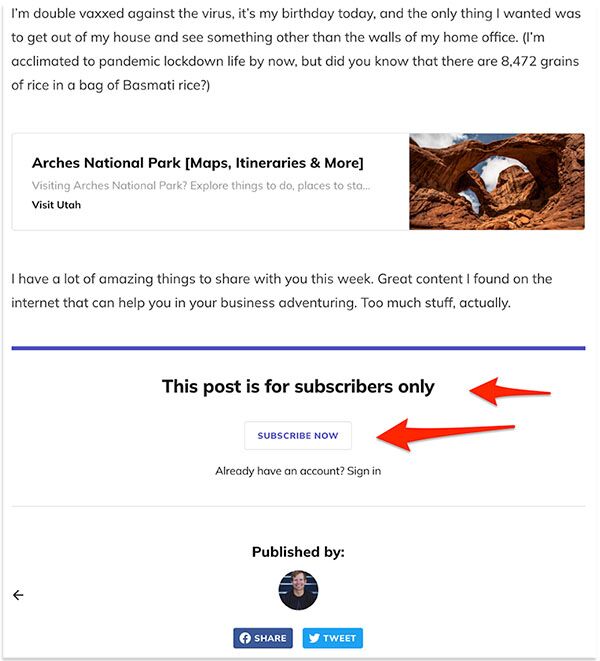 Baked right into Ghost is an easy way to allow people to sign up for a paid premium version of your publication. This gives creators who want to monetize a newsletter a simple alternative to Substack, which is great to see because Substack takes a 10% cut of whatever you earn from your publication, which pisses me off, to be honest.
That's a large fee for software and it's never felt good to me, so it's fantastic to see Ghost come along and offer creators an easy way to publish and monetize their work with a straight-forward monthly or yearly subscription payment.
And The best part? Ghost doesn't take any percentage of what you earn. That means that if your paid newsletter makes $5,000 a month, you keep all of that and just pay Ghost for the regular monthly fee to use the platform, which starts at $9/mo.
Other Great Things I Love About Ghost
Before I get into the downsides that I see with Ghost, here's a few other things I love about it that don't fit neatly into separate categories of this Ghost review:
You can choose the fully hosted version of Ghost for a low monthly fee, or you can run Ghost on your own server and integrate it into your existing website infrastructure.
The Ghost team offers a free migration service to move your content from another website or platform like WordPress or Substack. That's kind of a big deal for them to offer this for free…to move all of your content right into Ghost for you.
There are a lot of great SEO (search engine optimization) enhancements built right into the platform. No extra SEO plugins needed.
It's super easy to set the Twitter and Facebook card image and text for any page on a Ghost site. This refers to the image that will appear on either Twitter or Facebook if someone shares a link to a page or post on your site.
If you need to, you can add any custom code script into the header and footer of any page.
It's easy to use Ghost for a podcast website. There are themes that make the layout of the site easy for displaying podcast episodes.
There are loads of possible integrations available directly through the app via Zapier. You can easily integrate things like the Disqus commenting system, Google Analytics, Typeform for forms and surveys, or Buffer for social media post scheduling.
There's a directory of Ghost developers and theme designers easily accessible on the main Ghost site. These are people you can hire to do customization work on a theme, have them design and code a custom theme from scratch, or hire them to help you create some custom integrations between Ghost and other software apps.
There are about 100 themes to choose from, which are a mix of free themes created by the Ghost team and premium paid themes created by designers that don't work for Ghost.
There's a great selection, but if the layout of a given theme isn't exactly the way you want it, you'll need to hire someone to do some customizations for you, or learn a lot of code in order to change the theme.
I would love to have a more flexible, "no code" page editor that allows you to customize the design and layout of posts or pages without touching any code.
Ghost doesn't give you a way to embed a contact form on a contact page. You'd need to use an app that allows you to embed a contact form on the page, like Wufoo or Typeforms.
You could alternatively use a customer support app like Help Scout or Zendesk and drop one line of code into Ghost to have a support button that people can click on that's visible on any page. They click on that little button and they can send you a message through a pop up box.
That's actually much better than having a contact page, but not being able to have a traditional contact form feels important to mention.
This may seem like a small thing, but you can't change the color of text with the small pop up text edit tool bar that comes up in the editing area of a page or post.
There's a lot of great Ghost sites out on the web, some of which are run by large, well-known companies. Here's a few of my favorites:
Buffer Library – A collection of blog content for the company that makes the social media posting app called Buffer.
Duolingo Blog – Blog of the widespread language training app, Duolingo.
Rediverge (this is the personal site of the founder of Ghost)
Aliabdal.com – The main website of a popular Youtuber.
The Browser – A wildly popular curated newsletter that sends 5 interesting finds from the internet every day.
If you've been publishing a newsletter on Substack, or another newsletter focused web app like Revue or Letterdrop, you will likely love Ghost. Of the handful of newsletter focused apps on the market now, Ghost is my favorite.
It has a great balance of functionality and ease of use, and it makes monetizing your publication extremely easy. And the best part? Ghost takes no cut of the revenue you make from your publication.
If you're looking for a solid platform for a personal blog or a site for your podcast, I think Ghost is one of the top options for fulfilling the needs of a site like that (as long as you don't have a strong need for making a ton of customizations to how your site looks without either hiring a Ghost designer, or learning to edit code yourself.)
I'm considering using Ghost for this purpose myself, as I mentioned above, for a simple personal blog to house my writings on topics that don't fit on my main business website, which currently runs on WordPress.
Why don't I just spin up another WordPress site for this purpose? Because I don't like WordPress. I know how to use it and have used it for years, but I'm not a big fan of all the necessary plugins and what happens to your site when plugins break (all kinds of weird and bad things can happen, including your whole site going down off the web. That becomes a massive waste of time. I'm not a big fan of software that wastes my time.)
I also love how blazingly fast the pages of a Ghost site load, and that because the user interface of the admin side of Ghost is so minimal, it allows me to focus on writing instead of messing around with dozens of other things to get the words on the page to look the way I want.
If you're looking for a website with thousands of options for premium themes that you can customize with basically no limitations, Ghost probably isn't a good fit for you. To be honest, if this sounds like something you want or need, then WordPress is probably your best bet.
And if you're trying to find the best platform for a marketing website/blog, email marketing, and selling online courses, Ghost won't be a good fit for you. I'd highly recommend checking out our review on Kajabi, which is my favorite, easy-to-use all-in-one platform for monetizing your knowledge by selling online courses.
If you Ghost sounds interesting to you, I highly recommend taking it for a free trial test drive right here to see for yourself how it feels.
I hope this Ghost review was helpful for you in your decision making process!
Cheers,
~Forest Linden