Subscribe To Clarity Lab
If you like this issue of Clarity Lab, sign up below to get new issues full of tactics, trends, and news to help you grow your knowledge commerce business. It'll make your life better. Promise.
Leaderhosen – Clarity Lab Issue 80
Hi friend!
It's getting late on Tuesday night over here and nothing important is coming to mind to say to you for the start of this email right now, so I'll be brief, which is not normal for me, I know.
Oh wait! Here's something: as you can imagine, I read a lot of business books. I usually have 4 or 5 going at the same time and I rotate between them each day. I think it's good for us, however, to read fiction sometimes, especially if all we read is non-fiction.
One of my favorite science fiction authors, Andy Weir, just published a fantastic new book that I'm in the middle of: Project Hail Mary. If you like science fiction, this is a fun read. Andy is the author of The Martian, which was made into a movie of the same name with Matt Damon.
Alright, let's get to the good finds.
1


Instaglam

Here's something that doesn't get much coverage in the online business world: the psychological and emotional side of running an online business. I talk about it with some of my clients who want support around this side of the game, but I haven't written much about it and haven't seen many others writing about it either.

One particularly silent and troubling part of running an online business is this: the line between using social media for marketing and using social media to prop up how we feel about ourselves can become blurred.

In this somewhat psychologically technical but fascinating article, Mark Miller dives into the neuroscientific, psychological, and emotional underpinnings of what happens to us when we use social media.

Since many of us are on Facebook, Twitter, or Instagram for work, we often end up staying there for personal things, which means we're susceptible to the silent, mostly unconscious dynamics of social media addiction.

Here's the crux of the problem, as Miller puts it:

"Social media is a spectacularly effective method for warping our generative models. It overloads them with bad evidence about both the world around us and who we are. The space between being and appearing is potentially vast – with a few swipes, we can dramatically alter our appearance, or retake the same picture 20 times until our face exudes precisely the calm mastery of life we wish to project.

As social media platforms develop features that allow us to present ourselves inauthentically, those platforms become all the more powerful bad-evidence generators, flooding the predictive systems of their users with inaccurate information, telling us that the world is full of impossibly beautiful, happy people, living wonderfully luxurious and leisurely lives."

Wait, wait, just wait a minute Mr. psycho-philosopher pants. You're telling me that all those beautiful happy people on Facebook aren't that beautiful or happy? (Non-smiling sarcastic face.)

Here's how I counteract the tendency to only show the calm mastery of life I want to project on social media: I post non-flattering photos of myself on Twitter while poking a little fun at conspiracy theorists who think that the Covid vaccines are magnetising us.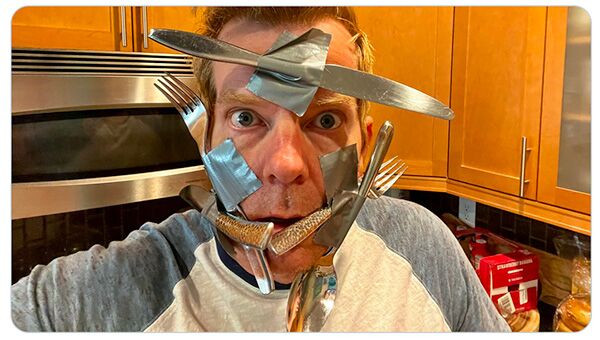 2


There isn't an app for that.

"Apple announced on Monday at its annual Worldwide Developers Conference (WWDC) that its upcoming iOS 15 update will give iPhone users even more insight and control over their own data. Among other updates, you'll soon be able to see who your apps are sharing your data with; you'll be able to stop trackers from detecting if and when you open emails; and you'll be able to keep your internet activity more private." That's Recode, with the scoop on how Apple is about to make it even easier for people to block various data tracking.

The relevant bit for us content marketers? Apple is going to make it very easy for people to block our email newsletter open and click rate tracking. That data helps business owners like you and me see what people are and aren't interested in, which helps us decide what content to create that can help people in our audience with their problems. (I'm not saying you have problems like problem-problems, but you do have business problems, and I want to help you solve them.)

There's no workaround for this right now, but it's a very, very important tech change to be aware of since so many of us rely on email marketing to grow our businesses and help our customers.
3


Leaderhosen.

So, I have a client-friend. Well, I have many client-friends. Oftentimes they have cool things going on in their business world. Later this month my client-friend Leila Bulling Towne is having a free webinar discussion with Matthew Barzun, former US Ambassador to the United Kingdom and Sweden as well as National Finance Chair for Barack Obama.

Matthew recently published a book called The Power of Giving Away Power, and he's been talking to CNN, PBS, Morning Joe, Simon Sinek, the BBC, and others about a new way to think about power in organizations. And now he's about to have a conversation with my client-friend Leila, who is amazingly brilliant, witty, and who helps leaders in organizations learn the not-so-obvious-but-super-necessary skills needed to become awesome leaders. (Fun fact: when working on the name of her business, her husband told her she should call it "Leaderhosen." That's one of my all-time favorite puns.) You can register for this free event with these two brilliant humans on June 29th right over here.
4


Brand up and be heard.

Time for something a little different. I stumbled on a podcast conversation that is so good that I found myself having crazy typing hands while I furiously took notes during the whole episode. It's a conversation between Lewis Howes and Rory Vaden about how to create a million dollar personal brand.

Rory is a New York Times best-selling author, two-time finalist in the World Champion of Public Speaking competition, and co-founder of Brand Builders Group where he teaches people how to grow their influence and build and monetize their personal brand. (Alright, that's it. I'm adding "New York Times best-selling author reader" to my bio.)

Rather than just link off to their podcast conversation, I'm going to share my notes with you, which contain all of the main points of the conversation plus a few comments from me about interconnections between what they're talking about and perspectives of other thought leaders, because you know I can't help but to insert myself into a conversation that I wasn't a part of.

Their chat is a little over an hour long. My notes take a few minutes to read. What I want to know is this: what will you do with the extra hour I'm about to save you?

You can find my notes and a link to the podcast right behind this link here.

That's all for this week, my friend. I hope you make some good progress with your to do lists this week!

If you enjoyed this issue and know someone who'd like to read it, I'd be grateful if you forward this email to them, or share a link to it on social media. Here's a link to the web version for you:

Thanks heaps, and I'll see you next time.

~Forest Linden
New York Times Best-Selling Author Reader

P.S. If you enjoyed this newsletter, I'd love it if you could forward a link to this page to a friend or share the link on social media. You can copy the link to this page right here: https://claritylab.co/leaderhosen-clarity-lab-issue-80/
Subscribe To Clarity Lab
If you like this issue of Clarity Lab, sign up below to get new issues full of tactics, trends, and news to help you grow your knowledge commerce business. It'll make your life better. Promise.