Convenience Thor. Signals In The Noise – Issue 69
Hi there, friend.
I know, I know…the newsletter name. For many years it was Signals In The Noise. Then a few months back I was seeing some brand confusion so I switched to The Intelligence Brief for a couple of months.
That was fun for a little while, to pretend I was giving you top-secret intelligence briefings, but it feels a bit like that one sweater you have that you like…but it never fits quite right.
So, back to Signals In The Noise, because that's what I do. I head out into the ever-increasing noise of the internet for you and find the best signals amongst all the noise that can help you grow your knowledge commerce business.
Ultimately, the name of my newsletter doesn't matter. What matters is you. You and your business. The people you can help. The lifestyle and freedom you can have. That's what matters to me. Ok wait. That's not totally true. Pancakes matter too.
With my focus on what helpful things I can bring to you, here are some of the best things I've found over the past couple weeks as we head into the New Year.
You Can't Judge A Book By Its Trailer.
Once in a while when I'm out there in the noisy interweb, I see patterns in the noise. Many connections between various data points happen in my brain and then I get an odd feeling that I'm seeing a trend emerge. This past week, I found one, and it's quite novel.
A company called Lit is creating what they call "video books," which are essentially high production cost video documentaries of the essential ideas in best-selling business books. If a really well-done documentary like The Social Dilemma had sex with a great business book like Seth Godin's This Is Marketing, a video book would be their love child.
They have one video book available now, which is Jonah Berger's great book Contagious: Why Things Catch On. I read the paper version of this book and loved it. I also bought the video book version of it on Lit and can see the appeal (and a bright future for this kind of format for non-fiction books.)
It's a much faster way to grok the key points of a book and you can see things you can't see in the written version, like interviews with the people written about. That adds a whole new dimension to non-fiction books.
90% of the books I read are business books and I'll likely continue to read the paper versions of books first, but following a book up with the video documentary version of it would be incredible.
However you decide to consume your business learning content, I'd highly recommend checking out the trailer for the video book version of Contagious. This link will get you 20% off on top of the 60% off launch price, making the video book version of Contagious just $8 for you.
Whether or not you like the video book format, keep an eye on this trend because while it's very expensive to create the level of quality of a Lit video book, there's a way you can create your own version of a video book for a lot less and sell it the same way you'd sell an online course. I'm actually working on filming a video book right now. It's called "How To Not Go Insane During A 9-Month Pandemic Lockdown By Working In Your Car While Parked In The Wilderness."
Nessun Blob Dorma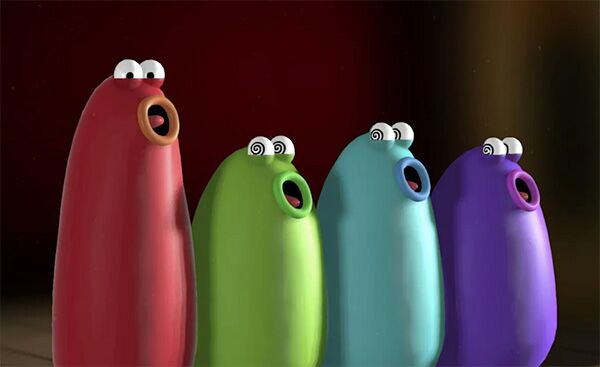 Alright, look…we're in that weird period between Christmas and New Year's, and most of us are taking a bit of time off, or at least not working as much on our business as we normally would. You can't go hard all the freaking time, all year long. I don't think that's healthy.
What is healthy is to have periods of time where you do nothing but revel in the pure joy of playing for no other reason than it feels good to play.
So, I'm giving you some homework for the weekend. Go check out this delightful Google experiment called Blob Opera.
It does one thing and one thing only: you make 4 different blobs sing opera-like music by pulling them up and down or back to front. And don't worry, it's impossible to make bad music with these hilarious blobs. I just played with them again before writing this piece and my face literally hurts from smiling for 5 minutes straight.
Speaking of opera, here's some inspiration for your Blob Opera creations. There was a night in 1998 when Luciano Pavarotti got sick right before a performance and couldn't sing, but then Aretha Franklin stepped in with a few hours notice and performed Nessun Dorma in his place. Whew…chills.
Convenience Thor
"We often think of (how) the Internet enables you to do new things, but people just want to do the same things they've always done. The Internet is a giant machine designed to give people what they want." That's Ev Williams, co-founder of Blogger, Twitter, and Medium, arguably three of the most important platforms that have made the internet what it is today.
This article in Fast Company about how to create a billion-dollar internet company was published seven years ago, but there's a timeless piece of advice in it that has stuck with me ever since.
You and I aren't looking to create a billion-dollar tech startup. At least…that was the sense I got last time you and I had coffee together. But there is one line in this article that's applicable for our kind of business…the kind that's intentionally small and bent towards helping people make their lives better, usually through some form of teaching.
As you're thinking, visioning, and planning out where you want to go with your business in 2021, maybe this wisdom from Ev will be helpful to keep on the table:
"Here's the formula if you want to build a billion-dollar Internet company," Williams says. "Take a human desire, preferably one that has been around for a really long time, and use modern technology to take out steps."
Think about your offers…your ebooks, free email courses, webinars, consulting or coaching services, or online courses. What are they helping people get in life?
How can you use technology, like your online course platform, pdfs, videos, a Slack channel, Zoom group teaching calls, podcast interviews, and anything else you can think of…how can you use that technology to take steps out of the desire your audience has and make it more convenient or faster for them to get what they want?
A Full Court Yes
"If you're not feeling 'Hell yeah, that would be awesome!' about something…say no." That's Derk Sivers, with more timeless wisdom for you to mull over in your thinking about what you want to accomplish in 2021.
Derek is a fascinating person to follow. He was one of the internet's first successful pioneers when he accidentally created CD Baby in 1997, which is a website that, back then, allowed musicians to sell their CD's online. (You do remember what CD's were, right?)
He's an introverted thinker, creator, and philosopher with piercing insights that can help you see life and business in new ways. As you work on making decisions for what to focus on for the coming year, keep this in mind: is it a HELL YES? If not, then it might be better for you to say no.
Alright, my friend. The last thing I'd like to leave you with before I point my car towards my house and leave the snowy mountain wilderness is this:
If you're at the beginning of starting your own knowledge commerce business and you need to bootstrap it, here is, hands down, the fastest way to start bringing in cash flow:
Put up a simple website and offer paid, one-on-one consulting or coaching.
You simply start helping one person at a time with the things you'll eventually help larger groups of people with through courses, services, or paid communities.
This is a minimum viable business engine that can fund the entire journey you're on.
Here's what you need to get this cash flow engine up and running:
And that's it. How you get traffic to your simple site is a story for another time, but for those of you just starting out on the journey, I wanted to leave you with something practical you can start building right away.
I hope the last couple of days of 2020 bring you peace and clarity. I'm not sure about you, but I will be glad to leave 2020 behind.
All the best to you,
~Forest Linden
P.S. If you enjoyed this newsletter and think someone you know would get something out of these, I would be ever so grateful if you could forward the link to this page to them. Here it is for you: https://claritylab.co/sitn-issue-69/
Subscribe To Clarity Lab
If you like this issue of Clarity Lab, sign up below to get new issues full of tactics, trends, and news to help you grow your knowledge commerce business. It'll make your life better. Promise.