You Have Nothing To News. Signals In The Noise – Issue 67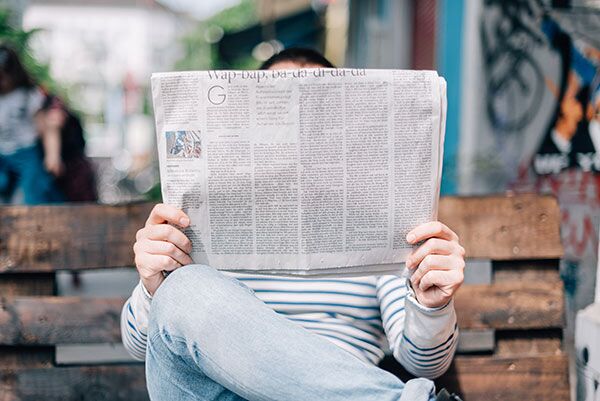 Hey there,
It's me again. I took some time off of other work in my business last week and spent it creating another issue of Signals In The Noise for you. (Okay, wait, there may have been some extra gaming time that happened in there. I play a game called Star Citizen, because, space exploration!)
To be honest, I'd love to write you every week but I can't commit to that quite yet. Fun fact: researching, curating, and writing an issue of Signals In The Noise takes between 8 and 14 hours of time. I'd love to do nothing but create these newsletters for you weekly, but alas, there are other areas of my business that need attention at the moment, and I'm a company of one, soooo…it'll be more like every 2 weeks-ish.
Someone just alerted me to the fact that it's now December, to which I replied, "wait…what the hell happened to Summer? Was that cancelled this year?"
Ugh. This year has been the longest decade of my life. If it feels that way to you as well, hang in there. The vaccine is on the way.
You Have Nothing To News
So, you have a newsletter, right? It could be in any format…even just regular emails that announce your new blog posts or podcasts. Here's the thing about newsletters: we most often think of them as part of our content marketing engine, as in, content we create to bring traffic and leads to our site that can lead to more sales of our services and products.
In other words, we write newsletters to make more sales.
But the magic of old-school newsletters with a new-school twist is that you can use them to directly make revenue. Here's the folks from Revue with 9 Ways To Monetize Your Newsletter.
Practice Juice
"Art is this: the human act of doing something that might not work, something generous, something that will make a difference. The emotional act of doing personal, self-directed work to make a change that we can be proud of." That's Seth Godin in his newly published book, The Practice.
I'm a big Seth Godin fan. I've read most of his 18 books, worked on implementing many of his ideas into my businesses, and get as excited as a k-pop fan before a concert when he publishes a new book.
And The Practice did not disappoint. The main thing I took away from this book is that the work we do in our business, especially the kind of business that you and I are interested in, is very much like practicing an art form like painting or playing the violin.
There is a method, but no formulas to follow. This work we do is an act of generosity and will succeed far more when we seek to be generous with our prospects, customers, and vendors.
And it's work to be done not just to make money, but to help others. We have to approach our work much as we'd approach a daily Zen Buddhist meditation practice. You just do the work, daily, even when you don't want to. You return to the cushion every day and keep working on the koan mediation until the insight is revealed to you.
Treat your work in the world as a daily practice and you'll go a long way with your business. As a writer, I'm practicing right now. I feel so fortunate that I get to write to you as part of that practice and that it doesn't involve folding myself into a pretzel on a mediation cushion.
100 True Stans
If you've been around in the online business space for long enough, you've likely heard about this "1,000 true fans" theory [ https://kk.org/thetechnium/1000-true-fans/ ], from Kevin Kelly, which basically says that all you really need to live a comfortable lifestyle with an online business is 1,000 fans that will buy anything you produce.
Li Jin, at the Andreesen Horowitz venture capital firm says that, "today, that idea is as salient as ever—but I propose taking it a step further. As the Passion Economy grows, more people are monetizing what they love. The global adoption of social platforms like Facebook and YouTube, the mainstreaming of the influencer model, and the rise of new creator tools has shifted the threshold for success. I believe that creators need to amass only 100 True Fans—not 1,000—paying them $1,000 a year, not $100. Today, creators can effectively make more money off fewer fans."
Despite the numbers, the premise remains the same: you don't need millions…millions in start up funding or millions of customers. You just need a small community of fans who know you, like you, and love what you create for them. Jin's updated take on the 1,000 true fans theory is worth a read. Crap…some breaking news just happened in the political space. Gotta run and tweet something about it to my 10 fans on the Twitter. Hey…don't laugh. Only 90 more to go.
Trendsweater
Welp, we're into the last month of the craziest year in any of our lifetimes. That means it's time for sweater weather in the North, swimming weather in the South, and for blog writers everywhere, it's time to pull out the best takes on what's coming for 2021. Here's Wordstream with a great look at what's likely to change in the paid social media ad space in 2021. If you're running ads on Facebook/Instagram/Pinterest, you'll want to have a read of this, as there are some new opportunities coming in the ad space that could help you.
Pop Goes The Weasel
You know those ubiquitous, annoying pop-ups that everyone has on their websites to get you to opt in for something for free, or to subscribe to their newsletter? Everyone says they're annoying, and yet, everyone still uses them on their websites. What up with that? Here's the deal: data doesn't lie. Everyone still uses pop ups because everyone can see their own pop-up stats. And those stats? Unequivocally show that opt-in pop-ups work well…like really well.
As with any technology, you can use it in a super annoying way (like at dinner when our son watches Tik Tok videos with the volume on max while I'm trying to read political news on Twitter and update my wife with the main news of the day via text messages that interrupt her while she's scrolling on Facebook), or…you can use technology in a non-annoying way.
With opt-in pop ups, here's what I've always done to keep them as least annoying as possible:
1) Only, only, only use exit intent pop ups that appear when a visitor is about to leave the site. This way you're not interrupting someone in the first few seconds of them arriving, when they're in the mindset of wanting to check something out.
2) Make the pop-up gently fade in over a half-second or so. Nice and gentle. Ease it into view. Don't slam people with an instant smack in the face with your opt-in pop up box (if your pop-up box has a setting that allows you to fade it in.)
3) Write really good opt-in copy, and if it fits with your brand, make the copy funny.
For example, here's how I usually start the copy in my pop-up opt-in boxes. The big headline will say "I know, I know. Pop ups are annoying as hell." That's not normal to see in a pop up and it tends to get people's attention and disarm them. Then I'll go on: "Shit. Well…as long as you and I are here together in this little box, I've got something for you…" and then I'll write a short sentence about what I'm offering for free and maybe a few bullet points before the name and email address fields.
You don't have to swear in your copy and you don't have to be funny if that's not your thing. The point is to write great copy in your pop-ups. They'll convert better and annoy less.
Alright. That was a way longer preamble than I thought I was going to write. Without further askew, here's Really Good Emails with a great article and eye-opening stats on why pop-up opt-in boxes work so well.
The stat that jumped out at me the most: pop-ups with countdown timers convert 121% better than those without countdown timers. I'm not a big fan of countdown timers on websites (because marketers use them to create fake urgency to get people to buy), but you know what? I'm going to try it and write this right above the animated timer:
You have approximately 1 minute until that clock below reaches a completely arbitrary point in time that means absolutely nothing.
I hope you kick butt on your to-do list this week! Come on! Let's GIT IT! Everyone else is powering down and starting to take it easy between now and January 2nd, which means you can step on the gas pedal and pass them by while they're sitting on the couch watching A Christmas Story for the 427th time.
~Forest Linden
Assistant Curator of The Internet
P.S. If you enjoyed this newsletter and think someone you know would get something out of these, I would be ever so grateful if you could forward the link to this page to them. Here it is for you: https://claritylab.co/the-intelligence-brief-issue-67/
Subscribe To Clarity Lab
If you like this issue of Clarity Lab, sign up below to get new issues full of tactics, trends, and news to help you grow your knowledge commerce business. It'll make your life better. Promise.